Activity &
Calorie Tracker

Heart Rate
Monitor

Smartwatch
Supported

Contest and
Challenges

Gamification
with prizes

Realtime
Leaderboard
Corporate Wellness Program Statistics
91% of employees that work in companies that prioritize workplace wellness say that they feel motivated and focused at work.
Reduced Health
Care Costs
60% of surveyed employers reported that implementing employee wellness programs helped reduce the healthcare costs for employees.
Implementing workplace wellness measures can help employers bring down employee absenteeism due to health related issues by 27%.
61% of employees agreed that they had made healthier lifestyle choices because of their company's employee wellness program.
How Corporate Wellness Program
Can Help Your Organisation
Increase Productivity
An employee's productivity is determined by how healthy they are, both physically and mentally. Vantage Fit packs in various health challenges and tasks for helping your employees take up healthy habits and boost their productivity. Our app also enables the organizations to assign various health tasks to your employees, thereby encouraging them to stay healthy and fit.
Decrease Absenteeism
Employee absenteeism has been a major problem across many organizations. Most of the time, this issue arises due to various health-related issues that your employees may face. However, with a corporate wellness program at your disposal, you can mitigate it by encouraging your employees to take up healthy habits. And that's what our app does!
Enhance Company Culture
The success of any organization is highly determined by its overall workplace culture. Our corporate wellness program delivered through Vantage Fit helps you promote a culture of health and wellbeing across your company. Thus, enhancing your company culture by nurturing a healthy and engaged workforce.
Promote Healthy Habits
Every great thing begins with adopting healthy habits, and workplace wellness programs are specially designed for this purpose. By initiating a wellness program in your organization, you can help your employees develop healthy habits and transform their lifestyles both at home and work.
Increase Employee Engagement
Highly engaged employees are the backbone of successful corporations. A workplace wellness program helps you create an engaging atmosphere around your organization to boost your employees' morale. It is when your employees feel physically and mentally fit, they will give their best performance.
Reduce Healthcare Costs
Every year, companies around the globe pay a hefty sum for providing subsidized insurance plans and other health benefits to their employees. But, encouraging your workforce to adopt healthy habits within their work-life will surely bring down the overall employee healthcare costs.
Here's a quick look at some of the key features of Vantage Fit.
Activity &
Calorie Tracker
Redeemable
Fitness Points
Intuitive
Admin Dashboard
Vantage Fit includes a highly advanced and intuitive dashboard that allows managers to create and run various health challenges for their employees and view the real-time progress of each employee.
Create and Configure Wellness Contests
Track Real-time Progress
Health Insights and Metrics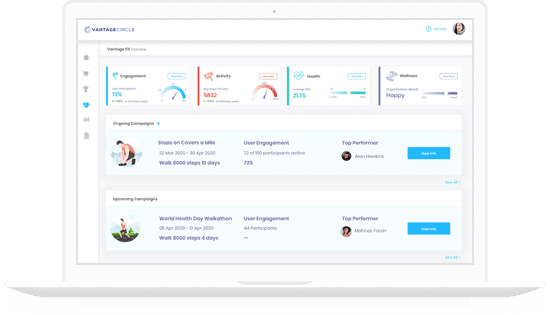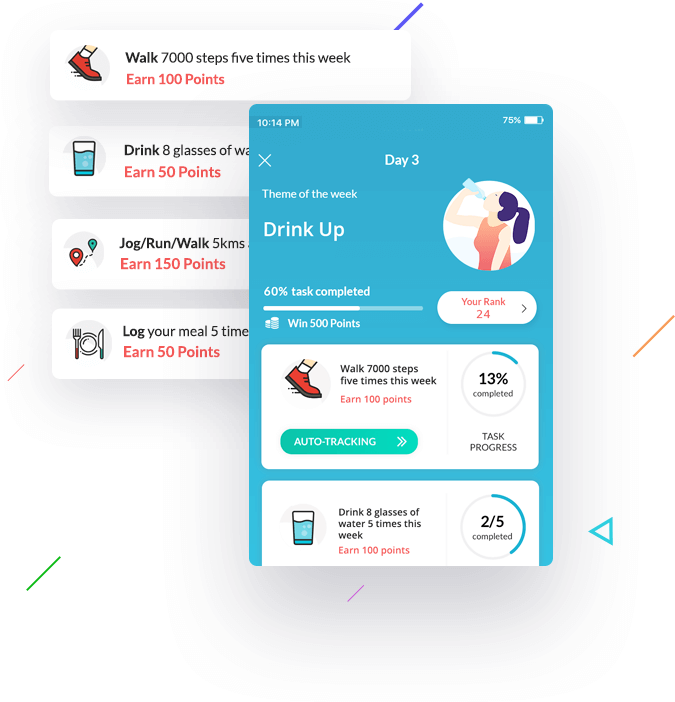 Vantage Fit's unique 12-Week Health Campaign feature gives employers the liberty to usher workplace wellness by assigning different health challenges and tasks specially designed by our certified fitness experts each week to help your employees take up a healthy lifestyle.
Keep your employees

fit and productive.

Launch a successful employee wellness program with Vantage Fit today.